Contact Us
TEL:

+86-769-8550 0878
+86-769-8550 8638
+86-769-8550 9768

FAX:

+86-769-8519 9216
+86-769-8550 0868

ADD:

Baisha Sancun Industrial District, Humen, Dongguan, Guangdong, China, Zip Code 523912

Line:

13650461438

Contact:

Ms. Daisy Peng

E-mail:

wch388@dgwch.cn

WeChat:

Daisypeng668

QQ:

3007357588

Skype:

daisypeng6166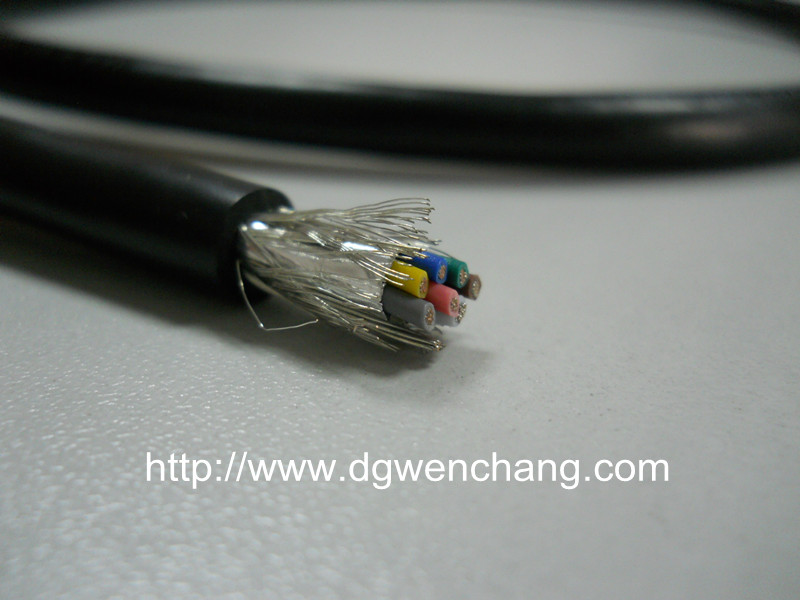 UL2464 Electrical cable
Product Description:

1)Tinned ,annealed,stranded or copper conductor.

2 )SR-PVC/PVC insulation.

3)PVC jacketed.

4)Cores cabled under aluminum mylar shield.

5)Tinned stranded copper drain wire.

6)Unpaired computer and data transmission cable.

7)Rated temperature:80℃.Rated voltage:300volts.

8)Passes UL VW-1 & CSA FT1 vertical flame test.

9)Excutive Standard:UL758,UL1581,CSA22.2.

Applications:

1) Sound broadcast,audio instrumentation and

computer cables for RS-232 applications.
UL Style & CSA Type

Cores

Conductor

Insulation Thickness

Jacket Thickness

Overall Diameter

Stanard Put-Up

Conductor
Resistance at 20℃

AWG

mm

mm

mm

mm

Ft/Coil

M/Coil

Ω/KM

UL2464
(Stranded)

2

18

34/0.178

0.40

0.80

5.8±0.15

1000

305

23.20

3

28

7/0.127

0.25

0.80

3.9±0.15

1000

305

23.20

26

7/0.160

0.25

0.80

3.9±0.16

1000

305

150.00

24

11/0.160

0.25

0.80

4.2±0.15

1000

305

94.20

22

17/0.160

0.25

0.80

4.7±0.15

1000

305

59.40

18

34/0.178

0.40

0.80

6.0±0.20

1000

305

23.20

4

28

7/0.127

0.25

0.80

3.9±0.15

1000

305

239.00

26

7/0.160

0.25

0.80

4.2±0.15

1000

305

150.00

24

11/0.160

0.25

0.80

4.5±0.15

1000

305

94.20

22

17/0.160

0.25

0.80

5.1±0.15

1000

305

59.40

18

34/0.178

0.40

0.85

7.1±0.20

1000

305

23.20

5

28

7/0.127

0.25

0.80

4.2±0.15

1000

305

239.00

26

7/0.160

0.25

0.80

4.5±0.15

1000

305

239.00

24

11/0.160

0.25

0.80

4.9±0.15

1000

305

94.20

22

17/0.160

0.25

0.80

5.5±0.15

1000

305

59.40

18

34/0.178

0.40

0.85

7.3±0.15

500

152

23.20

6

28

7/0.127

0.25

0.80

4.5±0.15

1000

305

239.00

26

7/0.160

0.25

0.80

4.8±0.15

1000

305

150.00

24

11/0.160

0.25

0.80

5.2±0.15

1000

305

94.20

22

17/0.160

0.25

0.80

5.8±0.15

1000

305

59.40

7

28

7/0.127

0.25

0.80

4.5±0.15

1000

305

239.00

26

7/0.160

0.25

0.80

4

.8

±0.15

1000

305

150.00

24

11/0.160

0.25

0.80

5.

2

±0.15

1000

305

94.20

22

17/0.160

0.25

0.80

5

.8

±0.15

1000

305

59.40

8

28

7/0.127

0.25

0.80

4.8±0.15

1000

305

239.00

26

7/0.160

0.25

0.80

5

.1

±0.15

1000

305

150.00

24

11/0.160

0.25

0.80

5.5±0.20

1000

305

94.20

22

17/0.160

0.25

0.85

6.3±0.15

1000

305

59.40

9

28

7/0.127

0.25

0.80

5.1±0.20

1000

305

239.00

26

7/0.160

0.25

0.80

5.4±0.20

1000

305

150.00

24

11/0.160

0.25

0.85

5.8±0.20

1000

305

94.20

22

17/0.160

0.25

0.85

6.7±0.20

1000

305

59.40

10

28

7/0.127

0.25

0.80

5.2±0.20

1000

305

239.00

26

7/0.160

0.25

0.80

5.7±0.20

1000

305

150.00

24

11/0.160

0.25

0.85

6.2±0.20

1000

305

94.20

22

17/0.160

0.25

0.85

6.8±0.20

1000

305

59.40

15

28

7/0.127

0.25

0.85

5.8±0.20

1000

305

239.00

26

7/0.160

0.25

0.85

6.4±0.20

1000

305

150.00

24

11/0.160

0.25

0.85

6.9±0.20

1000

305

94.20

22

17/0.160

0.25

0.85

7.8±0.20

1000

305

59.40

25

28

7/0.127

0.25

1.00

7.6±0.20

500

152

239.00

26

7/0.160

0.25

1.00

8.0±0.20

500

152

150.00

24

11/0.160

0.25

1.00

8.6±0.20

500

152

94.20

22

17/0.160

0.25

1.00

10±0.25

500

152

59.40

37

28

7/0.127

0.25

1.00

8.3±0.20

500

152

239.00

26

7/0.160

0.25

1.00

9.2±0.25

500

152

150.00

24

11/0.160

0.25

1.00

9.8±0.25

500

152

94.20

22

17/0.160

0.25

1.00

11.3±0.3

500

152

59.40

50

28

7/0.127

0.25

1.00

9.5±0.25

500

152

239.00

26

7/0.160

0.25

1.00

10.4±0.30

500

152

150.00

24

11/0.160

0.25

1.00

11.4±0.30

500

152

94.20

22

17/0.160

0.25

1.00

12.9±0.30

500

152

59.40