Contact Us
TEL:

+86-769-8550 0878
+86-769-8550 8638
+86-769-8550 9768

FAX:

+86-769-8519 9216
+86-769-8550 0868

ADD:

Baisha Sancun Industrial District, Humen, Dongguan, Guangdong, China, Zip Code 523912

Line:

13650461438

Contact:

Ms. Daisy Peng

E-mail:

wch3228@dgwch.cn

WeChat:

Daisypeng668

QQ:

3007356721

Skype:

daisypeng6166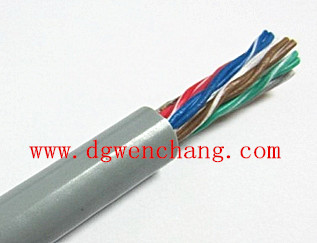 CAN BUS Cable
Characteristic and appliaction
Good anti-electromagnetic interference
Inflaming retarding, resistant to oil, machinery, wear, hydrolysis, acid-base, UV.
Suitable for use in severe environment.
Used for indoor and outdoor fixed or moving installation of trunking and drive pipe.
Construction
Conductor: Bare stranded copper
Insulation: Foamed PE
Cores: twisting cores
Shield: AL+ Braid (tinned copper)
Outer Jacket: flame retardant PVC or PUR
Colors: per customers' requirements
technical parameters
characteristic impedance: maximum 44Ω/KM
operating voltage: 300V
test voltage: 1000V
minimum bending radius: moving installation: around 15xD(outer diameter)
Fixed installation: around 8xD(outer diameter)
Operating temperature: moving installation: -30℃~+70℃
fixed installation: -40℃~+80℃
flame-retarding characteristis: complys to testing standard for part of VDE 0472-804 type B and IEC 60332-1
Remark: For more specification details, pls come to us.