Contact Us
TEL:

+86-769-8550 0878
+86-769-8550 8638
+86-769-8550 9768

FAX:

+86-769-8519 9216
+86-769-8550 0868

ADD:

Baisha Sancun Industrial District, Humen, Dongguan, Guangdong, China, Zip Code 523912

Line:

13650461438

Contact:

Ms. Daisy Peng

E-mail:

wch3228@dgwch.cn

WeChat:

Daisypeng668

QQ:

3007356721

Skype:

daisypeng6166
Home
>>
Products
>>
Wiring Harness
>> Wiring Harness for Internal Wiring of Home Appliance, Electrical Equipment by Wire UL11028 ApprovalDetailed description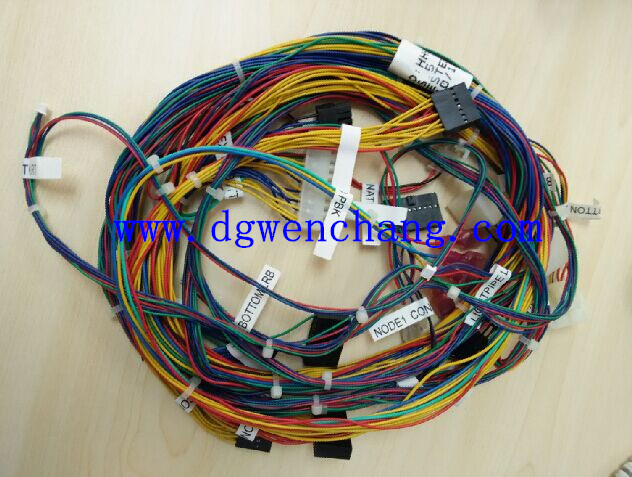 Wiring Harness for Internal Wiring of Home Appliance, Electrical Equipment by Wire UL11028 Approval
Product Description:
1) Tinned, annealed,stranded or solid copper conductor.
2) mPPE insulation.
3) Top coated conductor is available
4) Uniform thickness of wire to ensure easy stripping and cutting.
5) Rated temperature: 105°C.Rated voltage: 600V.
6) Passes UL VW-1 & CSA FT1 vertical flame test
7) Executive Standard:UL758,UL1581,CSA22.2.
Applications:
Internal wiring.

UL Style& CSA Type
Conductor
Insulation
Thickness
Overall
Diameter
Standard Put-up
Conductor
Resistance at 20oC
AWG
No/mm
mm
mm
Ft/coil
M/Coil
Ω/KM
UL11028
CUL AWM I A
(Stranded)
30
7/0.100
0.21
0.80
2000
610
381.00
28
7/0.127
0.21
0.90
2000
610
239.00
26
7/0.16
0.21
1.00
2000
610
150.00
24
11/0.16
0.21
1.10
2000
610
94.20
22
17/0.16
0.21
1.30
2000
610
59.40
20
21/0.178
0.21
1.50
2000
610
36.70
18
34/0.178
0.21
1.70
2000
610
23.20
16
26/0.25
0.21
2.00
2000
610
14.60
UL11028
CUL AWM I A
(Stranded)
30
1/0.25
0.21
0.75
2000
610
361.00
28
1/0.32
0.21
0.80
2000
610
227.00
26
1/0.404
0.21
0.90
2000
610
143.00
24
1/0.511
0.21
1.00
2000
610
89.30
22
1/0.643
0.21
1.15
2000
610
56.40
20
1/0.813
0.21
1.30
2000
610
35.20
18
1/1.024
0.21
1.50
2000
610
22.20
16
1/1.29
0.21
1.80
2000
610
14.00