Contact Us
TEL:

+86-769-8550 0878
+86-769-8550 8638
+86-769-8550 9768

FAX:

+86-769-8519 9216
+86-769-8550 0868

ADD:

Baisha Sancun Industrial District, Humen, Dongguan, Guangdong, China, Zip Code 523912

Line:

13650461438

Contact:

Ms. Daisy Peng

E-mail:

wch3228@dgwch.cn

WeChat:

Daisypeng668

QQ:

3007356721

Skype:

daisypeng6166
Home
>>
Products
>>
Wiring Harness
>> Wiring Harness for Internal Wiring of Home Appliance, Electrical Equipment by UL1015Detailed description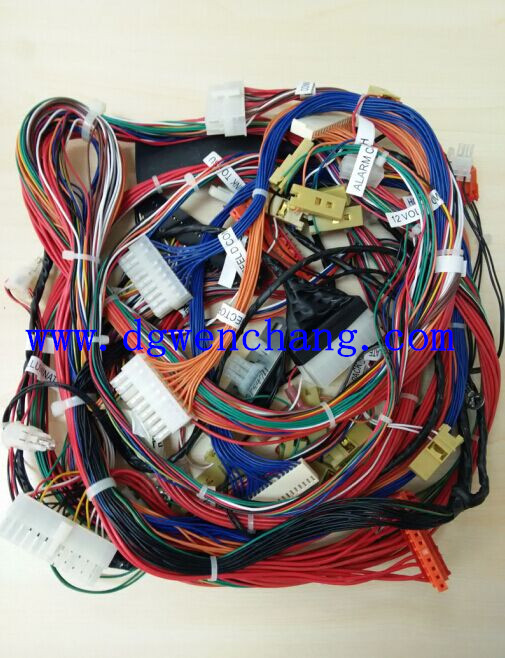 Wiring Harness for Internal Wiring of Home Appliance, Electrical Equipment by UL1015
Product description:
1) Tinned, annealed, stranded or solid copper conductor.
2) PVC insulation.
3) Rated temperature:105deg. Rated voltage: 600volts.
4) Uniform thickness of wire to ensure easy stripping and cutting.
5) Passes UL VW-1 & CSA FT1 vertical flame test.
6) Executed standard: UL758, UL1581, CSA22.2.
Application:
General purpose internal wiring of electronic and electrical equipment.

UL Style & CSA Type
Conductor
Insulation
Thickness
Overall
Diameter
Standard Put-up
Conductor
Resistance at 20oC
AWG
No/mm
mm
mm
Ft/coil
M/Coil
Ω/KM
UL1015
(Stranded)
28
7/0.127
0.79
2.00
2000
610
239.00
26
7/0.160
0.79
2.10
2000
610
150.00
24
11/0.160
0.79
2.20
2000
610
94.20
22
17/0.160
0.79
2.40
2000
610
59.40
20
21/0.178
0.79
2.50
2000
610
36.70
18
34/0.178
0.79
2.80
2000
610
23.20
16
26/0.250
0.79
3.10
1000
305
14.60
14
41/0.250
0.79
3.50
1000
305
8.96
12
65/0.250
0.79
4.00
1000
305
5.64
10
105/0.250
0.79
4.60
1000
305
3.55
UL1015 (Top-coated)
26
7/0.160
0.79
2.10
2000
610
150.00
24
7/0.200
0.79
2.20
2000
610
94.20
22
7/0.250
0.79
2.40
2000
610
59.40
UL1015 (Solid)
28
1/0.320
0.79
1.90
2000
610
36.70
26
1/0.404
0.79
2.00
2000
610
239.00
24
1/0.511
0.79
2.10
2000
610
150.00
22
1/0.634
0.79
2.20
2000
610
94.20
20
1/0.813
0.79
2.40
2000
610
36.70
18
1/1.024
0.79
2.60
2000
610
23.20
16
1/1.290
0.79
2.90
1000
305
14.60
14
1/1.628
0.79
3.20
1000
305
8.96
12
1/2.052
0.79
3.60
1000
305
5.64
10
1/2.588
0.79
4.20
1000
305

3.55