Contact Us
TEL:

+86-769-8550 0878
+86-769-8550 8638
+86-769-8550 9768

FAX:

+86-769-8519 9216
+86-769-8550 0868

ADD:

Baisha Sancun Industrial District, Humen, Dongguan, Guangdong, China, Zip Code 523912

Line:

13650461438

Contact:

Ms. Daisy Peng

E-mail:

wch3228@dgwch.cn

WeChat:

Daisypeng668

QQ:

3007356721

Skype:

daisypeng6166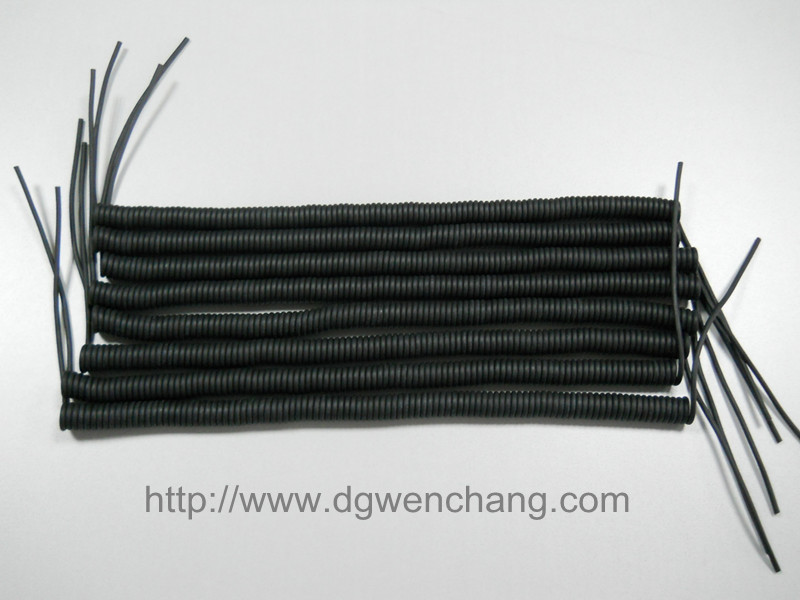 UL20866 TUP/PVC Insulation Cable
Product Description:
1.Tinned,annealed,stranded or solid copper conductor.
2.PVC/SR-PVC/PP/TPU/XL-PE insulation.
3.TPU jacketed.
4.Rated temperature:80°C.Rated voltage:300volts
5.Uniform thickness of wire to ensure easy stripping and cutting.
6.Passes UL VW-1&CUL FT1/FT2 vertical flamt test.
7.Tinned or bare copper winding or woven isolation.
8.A collection of cores can be isolated tissue-paper package.aluminum foil or mylar.
9.Executed standard:UL758 UL1581 CSA22.2.
Applications:
1)For general purpose internal wiring of electronic and electricalequipment.
UL Style &CSA Type

Conductor Cores

Conductor

Insulation Thickness

Nom.Dia

Jacket Thickness

Overall Dimeter

Conductor Resistance at 20°C

AWG

No/mm

mm

mm

mm

mm

Ω/KM

UL20866 (Stranded)

2C

30

7/0.100

0.25

0.8

0.8

3.3

381

28

7/0.127

0.9

3.5

239

26

7/0.160

1

3.8

150

24

11/0.160

1.1

4.1

94.2

22

17/0.160

1.3

4.5

59.4

20

21/0.178

1.5

4.9

36.7

18

34/0.178

1.8

5.5

23.2

3C

30

7/0.100

0.25

0.8

0.8

3.6

381

28

7/0.127

0.9

3.9

239

26

7/0.160

1

4.1

150

24

11/0.160

1.1

4.4

94.2

22

17/0.160

1.3

4.7

59.4

20

21/0.178

1.5

5.2

36.7

18

34/0.178

1.8

5.9

23.2

4C

30

7/0.100

0.25

0.8

1

3.8

381

28

7/0.127

0.9

4.1

239

26

7/0.160

1

4.3

150

24

11/0.160

1.1

4.6

94.2

22

17/0.160

1.3

5

59.4

20

21/0.178

1.5

5.6

36.7

18

34/0.178

1.8

6.3

23.2

5C

30

7/0.100

0.25

0.8

1

4.1

381

28

7/0.127

0.9

4.4

239

26

7/0.160

1

4.7

150

24

11/0.160

1.1

4.9

94.2

22

17/0.160

1.3

5.5

59.4

20

21/0.178

1.5

6.2

36.7

18

34/0.178

1.8

6.9

23.2

6C

30

7/0.100

0.25

0.8

1

4.4

381

28

7/0.127

0.9

4.8

239

26

7/0.160

1

5.1

150

24

11/0.160

1.1

5.5

94.2

22

17/0.160

1.3

5.9

59.4

20

21/0.178

1.5

6.5

36.7

18

34/0.178

1.8

7.4

23.2